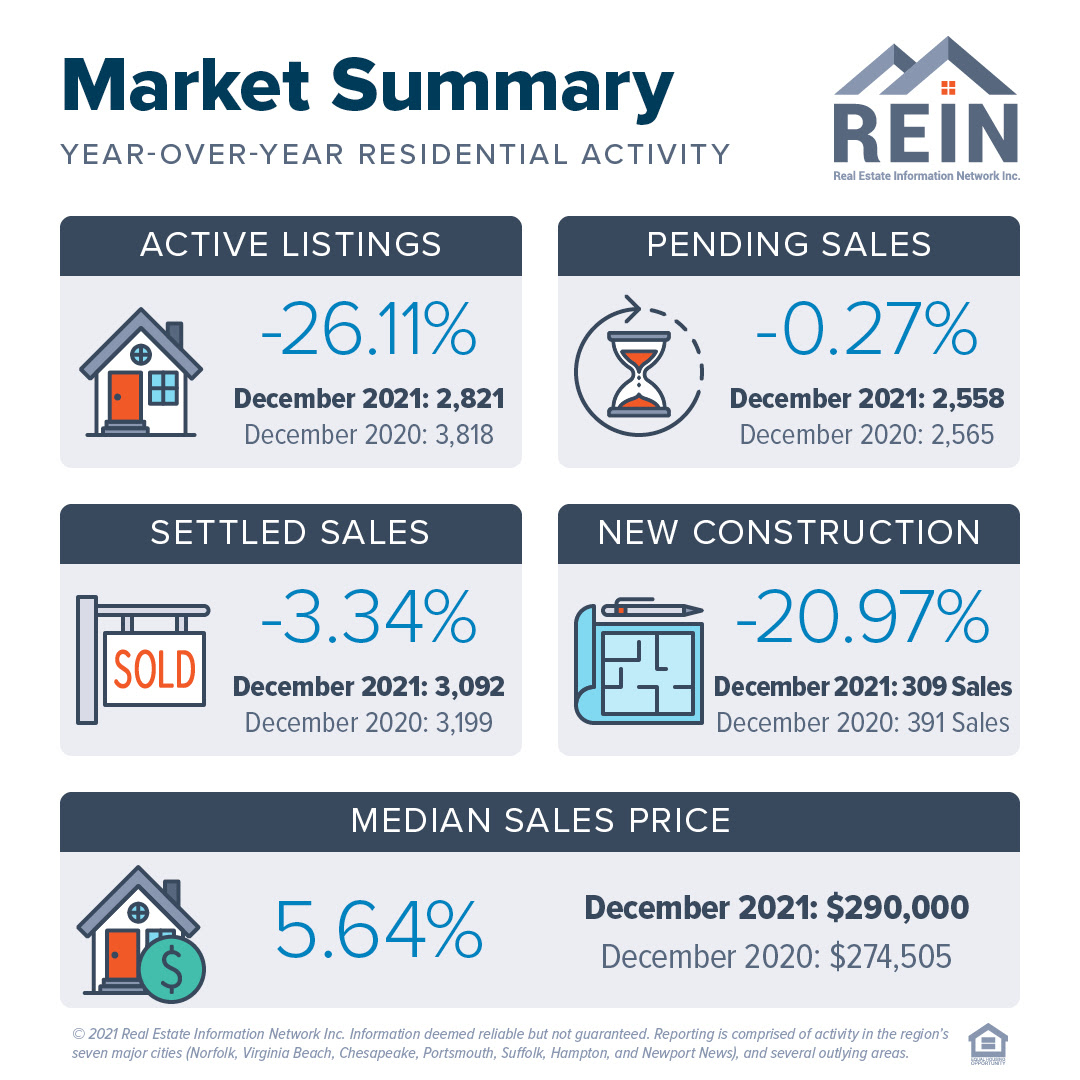 For the past year we have been writing about how few homes there are for sale on the market and how that is the largest driver behind our current seller's market. An important point to make is that while the months supply of inventory is definitely down (December 2021 was less than one month), 38,276 homes – an impressive number – sold in 2021 across all of Hampton Roads. That is 4,579 more homes than sold in 2020 and more than double the number of homes that sold ten years ago in 2011. Here is a chart from our local MLS (Real Estate Information Network – REIN) with some more information:
 To buyers it seems like there are not any homes for sale but the numbers show that there are, in fact, more homes selling than in past years. The real problem is that the demand from buyers is so high that the available houses are selling at a rapid pace and on an accelerated timeline. This is driving up prices across the board. The median sales price for the entire year of 2020 was $266,000. The median sales price for the month of December 2021 was $290,000. Can you guess what the median sales price was for the entire year of 2021? Reply back to this email and the three people with the closest guesses will win a Starbucks gift card. 
As we head into spring, if you are thinking about selling your property, now is the time to get started. Sellers often make the mistake of waiting to list in the summer, but statistics show that early spring really is a better time. Based on a study we did a couple of years, the top five months with the highest number of homes going under contract are, in order: April, June, May, July, and March. Many people do move during the summer months but that is often because they listed their house in the spring, aiming for offers that might close 30 to 60 days later in time for a summer move. If you are considering selling, now is the time to start making plans and we are here to help. Give us a call (757-726-7653 for Lee, 757-434-9084 for Harry) and put our experience to work to help make you more money!
Thanks
Lee and Harry
Click HERE for previous editions of the newsletter
What's Happening in Suffolk
Suffolk Tourism, VA
Masters of Soul is a celebration of the legendary songs and performers that defined Motown and soul music. Back by popular demand, this 90-minute show features stylishly costumed, fully choreographed performances of both male and female groups…
Suffolk Tourism, VA
The Suffolk Division of Tourism, in partnership with the Suffolk Center for Cultural Arts, is pleased to present Star Wars at the Center, a series of epic space adventures that became a worldwide pop-culture phenomenon and defined a new…
Suffolk Tourism, VA
The Suffolk Art League will hold its 38th Annual Antique Show and Sale on February 26 & 27, 2022, at Kings Fork Middle School. The hours are 10am to 5pm on Saturday and noon to 4pm on Sunday. Admission is $7.
Join the Suffolk Division of Tourism as they present the Annual Suffolk Mystery Authors Festival, to be held on Saturday, March 5, 2022. Whether you are an avid or casual reader, aspiring writer or published author, you will find something…
Suffolk Tourism, VA
Photography has been a part of our lives since the 1800's and Suffolk boasts some great photographers through the years. Join the Suffolk-Nansemond Historical Society as they present "Through The Lens," an exhibit that features thousands of…